It was with a feeling of nervousness, excitement and exhaustion that I walked into the Social Area of the British School of Brussels (BSB) a couple of weeks ago to be faced by a sizeable amount of complete strangers turning their heads to look at me and the other students from St. Julians School of Portugal around me.

We had woken up at 4:30 a.m that morning to catch the flight from Lisbon to Frankfurt and then to catch a connecting flight to Brussels so we had had more than enough time to create lots of different images in our minds as to what the festival would be like but I know that, at least in my case, all of these images disappeared as soon as we walked into that room.

We arrived at the BSB at around 17:00 and we immediately made a start with a full group movement and singing in the auditorium. As this festival was to be entirely based on the theme of Shakespeare we began by walking around the room and greeting everyone we came across with a pleasant Good Morrow and either a bow in the case of the males or a curtsey for us females. After a few more simple exercises done to put us slightly more at ease we went on to do some singing. This consisted of singing the numbers one to eight up a scale as well tapping and stretching our feet and legs in time with the beat. Of course this is simple enough but if you try to do it in unison with another 50 people you will find it is not quite so easy!

With the singing finished we were told to go to our ensemble groups which had already been put together. I found myself in group number 2 with Gill as my leader. The first things we did were some name games so that we could get to know each other as these were the people that wed be spending a lot of our time with over the next three days. After this we played a few more games involving trust so that we would feel as comfortable as possible with each other.

At around 18:30 we had dinner at the cafeteria and everyone got to know each other better. At 19:30 we had another 45 minutes with our ensembles when we began to discuss what we knew about Shakespeare. After this came the time of the day which had caused us the most worries, finding out who our host families would be. Everyone, including the hosts, was afraid that theyd be stuck with some freak but by the next day everyones mind had been put at ease after having spent a night with another perfectly normal human being.

The next day was Saturday and reaching the school at 9:30 in the morning was not an easy feat but somehow, by about 9:45, everyone seemed to be present and doing aerobics of some form or other in the full group warm up which was held in the hall.

At 10:00 began the first workshop. There were seven workshops on offer which were: The student opera singer, soliloquy, stage combat, discovering Shakespeare, gender, directing a scene and Shakespearean comedy. Each student had to attend four of the workshops, the ones that I attended were the last four and the one that I enjoyed especially was gender which dealt with the different ways in which men and women perceive each other.

After the workshop and a small break we had another ensemble session in which we continued to discuss Shakespeare and we did a few improvisations based on Shakespeares plays. This was followed by lunch after which we saw two student directed scenes, one put on by Marymount and the other by BSB. The scenes were both from A Mid-Summer Nights Dream but they were completely different and they were both appreciated by everyone.

After another workshop came a full group music session when we were told that we would be rehearsing the song Tonight from West Side Story and so we set to work on this very tricky piece. We practised for an hour and a half and then it was the time for St. Julians to set up for their play entitled The Masque from Shakespeares play The Tempest.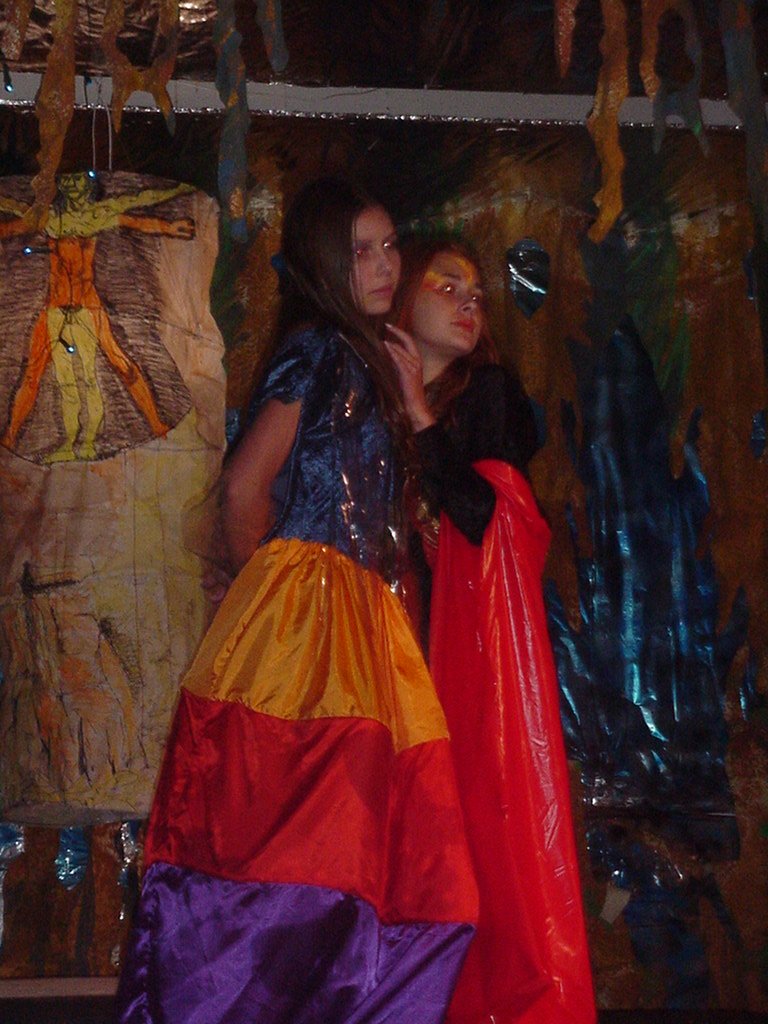 The half an hour given to us to set up went by far too quickly and before we knew it we were having to perform. Thankfully, everything went well and I think that all the audience enjoyed it and I know that we certainly glad to get it over with!

After the play a social event had been organised for all the students and we had fun playing improvisation games and, later on, dancing in the disco set up for us. I know that I was completely exhausted by the time we arrived back at my host familys home, luckily the clocks were going back an hour which meant that I could get one more hour of precious sleep.

Getting up on the Sunday at 8:30 proved to be even harder than it had been the previous day but most of us managed to be at school by 9:30 for yet another energetic warm up. The day was quite similar to Saturday, with two workshops and some more ensemble sessions in which ideas for final performances were beginning to come up. The highlights of the day were the music theatre scenes and the play put on by the BSB students. The music theatre scene from BSB was a few songs from the musical West Side Story, including I feel Pretty and Somewhere. From St. Julians came an original piece of music written by two teachers from the school which was written to the words of a song in The Tempest. Finally, from Marymounts came an excellent solo performance of Memory from the musical Cats which had most of us in tears and a very well done piece from The Pirates of Penzance performed by two students a cappella.

The play by BSB called Shakespeare Our Contemporary was based on scenes from Shakespeares plays and scenes devised by the students through improvisation. In the performance they showed how, sometimes in comic situations and other times in more serious ones, Shakespeare can relate to modern times.

Monday was the final day of the festival but it was still extremely busy. After a full group music session in which we perfected as much as possible our performance of Tonight we went to our ensemble groups where we put together the plays that we would be performing. Then ensued half an hour of laughs as everyone watched each others plays and finally we performed Tonight which we had worked so hard at to a very small but very encouraging audience.

Finally the time came to say goodbye. It is amazing how many people you can meet in three days and how many experiences you can share with those people who started off as complete strangers. Those three days were intensive and exhausting but most of all, a lot of fun.

Ana Fletcher